DW741-WHAT-MLG
Crosspoint Ultralight Waterproof Socks - Anniversary Edition
Crosspoint Ultralight Waterproof Socks - Anniversary Edition
We've put together a collection of items to celebrate our 25th year in business ( I know, we can't believe it either...) featuring an ultra-limited edition goldenrod colorway of our popular ultralight waterproof socks, waterproof knit gloves, and Elite 2.1 jacket. 

Built for cycling and close-fitting footwear, the Crosspoint Ultra-Light waterproof socks feature a lower silhouette with 13% less bulk than our regular Lightweight socks. The extra absorbency and cushioning just in the toe are perfect for pedaling, all while keeping your feet protected from rain.

More Details

Can we make it lighter? Yes we can! Built for cyciling and close-fitting footwear, the Crosspoint Ultra-Light waterproof socks feature a lower silhouette with 13% less bulk than our regular Lightweight socks. The extra absorbency and cushioning just in the toe are perfect for pedaling, all while keeping your feet protected from rain.

We set out to stop cold wet feet from ruining your outdoor fun, and in the process, we discovered a whole new way to make socks.

All our Crosspoint waterproof socks feature a unique and innovative 3 layer, 3D-molded design, including these Ultra Lightweight wool waterproof socks.

It's 100% possible to have 100% waterproof-breathable socks without sweaty feet. Crosspoint socks are fully waterproof thanks to 3-layers: a wear-resistant knit exterior (feels like a regular sock), a waterproof breathable Artex™ membrane, and the natural moisture wicking anti-bacterial properties of merino wool in the inner sock.

Our unique manufacturing process 3-D forms each sock so as to contour to your foot naturally, providing all-day support and comfort. The result is a sock that feels like a sock, but protects like a rain bootie. Now you don't have to choose between keeping your feet dry and breathability (we don't like sweaty feet either).
Technical Specifications

Ultra-Light Wool Features:

Terry-loop cushioned, reinforced toe
Lightest weight and thickness of all Crosspoint waterproof socks
Crew cut (7.5" height) waterproof protection
Moisture wicking, natural anti-microbial merino wool lining
Inner: 38% Merino Wool, 38% Acrylic, 15% Polyester, 7% Nylon, 2% Spandex
Outer: 90% Nylon, 8% Lycra, 2% Spandex

All Crosspoint Socks Feature:

3-layer construction: Wear resistant knit exterior, a seamless waterproof Artex™ membrane, and a soft, comfortable lining
Ergonomic fit due to a proprietary 3-D molding process
Microporous waterproof membrane allows the sock to ventilate in order to decrease sweat accumulation
Sizing

For expert fitting advice, give us a call!


View Larger
Care Instructions

APPROPRIATE WASHING + A LITTLE TLC = RAIN GEAR LONG LIFE




We strive to make durable products because we know our customers rely on their gear. All garments will wear out over time, but a garment that is properly cared for will last much longer than one that is neglected. We want you to have the best possible experience with your Showers Pass gear, so here are our tips for getting the longest life and best performance from your outerwear:

Waterproof Care Instructions 

 
Do not expose to excessive heat. Seam tape can fall apart in a dryer, and it is not a pretty sight. Excessive heat (even a car dashboard in the summer) can also cause multi-layered waterproof fabrics to delaminate.


Store with care. Just because a garment can stuff into its own pocket or stuff sack does not mean it wants to live that way all the time. Hang it up or lay it flat between uses; and make sure it dries completely.


Be kind to your zippers. We sometimes use 2-way zippers for venting, and water-resistant zippers to keep you extra dry. Both of these features can make the zippers harder to operate. Please be gentle with them. In our experience, yanking on them repeatedly will only make them angry. For the occasional extra-sticky spot, we've found that paraffin wax makes for a good lubricant. Regular pencil graphite rubbed on the zipper's teeth is a good lubricant as well (Just don't wear it over a white shirt that day!)


Spot treat stains. If you have a really tough stain, spot cleaning with liquid dish detergent can help. Never use bleach or harsh chemicals to clean your jacket. To protect the interior of a jacket from stains, be sure to wash new shirts, jerseys and arm warmers before wearing them underneath your jacket to prevent colors from depositing onto the lining.

-----------------------------------------

Merino Wool Care Instructions

Merino wool is undoubtedly one of the best fabrics for outdoor use. Its warmth-to-weight ratio is unmatched. Merino's ability to stay relatively odorless even when you sweat is also invaluable when you are days away from a washing machine. It wicks moisture more effectively than synthetics to boot. The one challenge in owning Merino wool clothing is the special care necessary to maximize its lifespan. If washed and treated properly, it can last many years. If not, you might find yourself questioning the high cost. Below are some general guidelines to follow, now that you are the proud owner of a Merino wool garment from Showers Pass. 

Do's and Don'ts:

DO read the label for the specifics on your garment. Some blends of Merino and synthetic fibers can handle a little more abuse than 100% Merino wool pieces, so it is important to note that not all Merino garments can or should be washed in the same manner.

DO wash the garment after a couple uses even if it does not stink or appear dirty. Keeping the fabric clean will decrease the chance of it pilling in the future.

DO turn clothes inside out when washing to prolong their lifespan.

DO wash below 85°F/30°C to avoid the garment shrinking or becoming misshapen.

DO lay flat to air dry and avoid direct heat. Merino garments can be heavy when wet, so drying on a line or hanger can stretch the fabric and cause it to lose its shape. 

DON'T use fabric softeners. The chemicals in them can deteriorate wool fibers at an accelerated rate.

DON'T wring your clothes dry, as this can leave them misshapen.

DON'T let Merino garments sit in the washing machine for too long after the cycle is done. This can also leave them misshapen.

 

"Ok, so how do I wash this thing?"

Read the label! If the label suggests machine washing then go for it! Follow the care instructions and when in doubt, refer to the aforementioned suggestions.  

If the label recommends hand washing, here are some best practices:

Do hand wash in a basin with warm water and soap. But to avoid shrinkage, do NOT allow to soak for too long.

Do use a soft cloth to dab (not rub!) soap on any stained areas. If the stain is stubborn, use a small amount of chlorine-free bleach. Be careful not to stretch the wool.

Do dry on a flat surface, preferably on a towel. Merino garments can be heavy when wet, so drying on a line or hanger can stretch the fabric and cause it to lose its shape.

Do reshape while still damp.

Don't wring out the garment.

 

"OH NO, I MESSED UP! What can I do?"

If you don't follow the instructions above, you might end up with a shrunken garment.

The shrinking that occurs with Merino wool is not technically shrinking at all. What happens is the fibers migrate closer together, causing the garment to look and fit smaller.

If you've already washed your woolen garment and it seems shrunken, don't panic quite yet. There is a way to stretch it back out.

Follow these steps:

Fill a sink with room-temperature water. Add two tablespoons of hair conditioner or a gentle shampoo akin to baby shampoo. This will help soften the fibers so the fabric can be stretched back out.

Soak your garment for about twenty minutes.

Drain the water and gently PRESS out the remaining water from the garment. 

DO NOT

wring the garment!

Lay it out flat on a towel, and roll the towel up to remove even more water.

Place the garment on another (dry) towel, and gently reshape it to its original size.

Lay it flat to air-dry.

Be more careful with your laundry next time!

 

Further questions?

Email us at support@showerspass.com

Call us at 503-203-8000.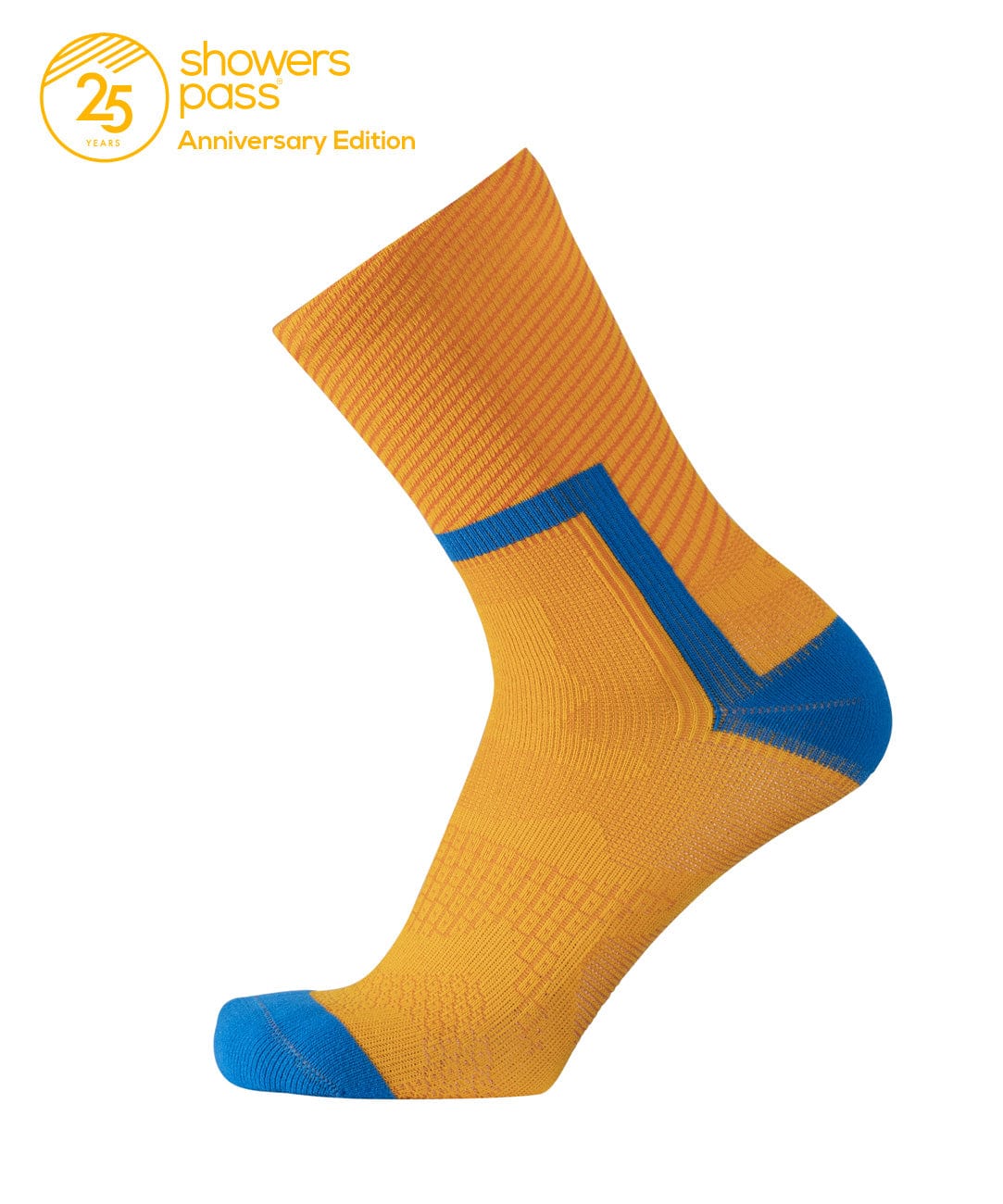 Limited 25th Anniversary Collection
Regular price

Sale price

$69.00

Unit price

per
Product Page Info - Company Credo
We've built a reputation on reliable and durable gear over the past 25 years. That's why we stand behind our outerwear with a 2 year satisfaction guarantee. Apparel and accessories are guaranteed for 1 year. 
When you order from Showers Pass, we're picking, packing, and shipping your products direct from our headquarters in Portland, Oregon. US Orders over $140 qualify for free shipping, and we offer flat-rate 2-day shipping. Options available at checkout, based on your order.